Is your home currently listed for sale in the City of Pittsburgh real estate market? Are you aware of the City of Pittsburgh dye testing ordinance? If you or your real estate agent are not familiar with it, here's how you can avoid creating a legal problem for yourself when it comes time to close on your house.
What is dye testing?
Dye testing involves placing fluorescent green powdered tablets inside of a stormwater/downspout pipe. The bright coloring of the dye identifies if a sanitary sewer has stormwater or runoff drainage going into it. The dye gets placed into rain leaders (or downspouts) and any outdoor drains. If the dye shows up in the sanitary sewer system, the piping draining the storm and runoff water would have to be disconnected.
Any illegal stormwater connections would need to be rerouted into a storm sewer. If there is no readily available storm sewer nearby, the piping would have to be brought out past the property to the curb so it can drain into the storm basin.
It's necessary!
Under the Pennsylvania Department of Environmental Protection (DEP) clean streams law (section 210) requires that every local government in Pennsylvania create and adopt a correction plan to control overloading of their sanitary sewer systems.
The most important requirement of the corrective plan among other things is to stop stormwater and fresh water run-off from entering all sanitary sewer lines and causing them to overflow raw sewage into rivers and creeks. Separation of the two sewer systems prevents that from happening.
Are you required to dye test?
If your house is for sale it would all depend on the location of your property. The first step you're required to do is to contact the Pittsburgh Water And Sewer Authority (PWSA) and receive an Evidence of Compliance Certificate before you finish the sale. If PWSA confirms that your property drains into a sanitary sewer system only, you'll need to contact a registered master plumber like Vince to preform a dye test.
If PWSA tells you that your property drains into a combined sewer system, you won't need to have a dye test. You'll be cleared to proceed with the sale of your property to the buyer.
Leaking sewer laterals
Dye testing will also pin point a sewer lateral leak. Usually either the PWSA or the Pittsburgh Public Works (the City) will identify a sinkhole that starts forming in a city street. On occasion, a homeowner will also report a sink hole to the City or PWSA.
PWSA then starts an investigation to determine if there is a leaking sewer lateral causing the sinkhole. A test is done by placing dye tablets into the sinkhole with running water which will determine if a particular sewer lateral is leaking. If it is, the dye will enter the separated pipe and show up in the main sewer. The PWSA then informs the owner(s) to make the proper repairs to stop the leak.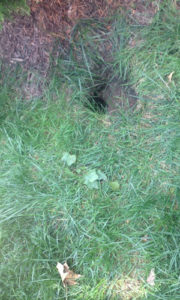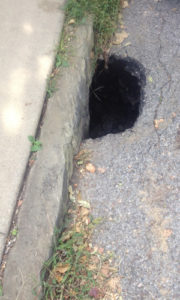 Here is a look at the excavation and sewer line replacement I did for a customer. From viewing the pictures below you can see that it was extensive work: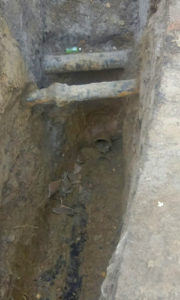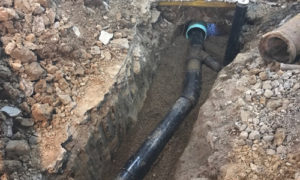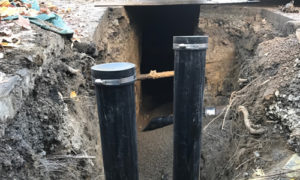 I replaced the entire sewer line from inside the basement of the home all the way to the main sewer. There were over eight separations in the old sewer line which started from inside of the house and ended outside of it just before the main sewer tap. Two of the major leaks were in the front yard and at the street curb line.
Septic tank verification
Dye testing is mandatory for determining if a home's sewer line drains into a septic tank/leach field before its sold. Here's more information about septic tank conversion and connecting into a public sewer tap.
Do you need a dye test?
Whether the Water and Sewer Authority contacts you or you're just not sure, contact Vince to find out what you need to do about dye testing. If you know you need one, you can schedule an appointment for your dye test with Vince.