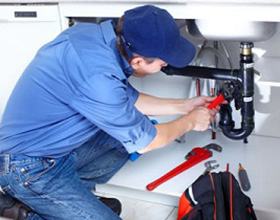 Is your water heater leaking or suddenly bursts? Do you have a shower head or faucet that drips constantly? Does your toilet never stop running? Do you have a slow drain?
Often times even the smallest plumbing issue or drain back-up, if not repaired quickly, can lead to even bigger problems.
As a homeowner, tenant or residential property owner, the last thing you want is a major plumbing problem that can cause sewage leaks and even structural damage to your home.
Vince Marino Plumbing llc works with residential property owners and property management companies such as apartment complexes, condominium and homeowners associations, as well as other multi-unit housing companies, and can help you too.
Vince offers a full range of residential plumbing services and he is committed to providing professional, honest and affordable service on every job.

From simple repairs to installations, Vince does the job. Because of his quality workmanship and attention to detail, Vince has a solid reputation of customer satisfaction.
Vince Marino is a licensed, professional, courteous plumber, and can provide solutions for all of your plumbing needs, including but not limited to:
Bath tubs
Drain Cleaning
Complete bathroom, kitchen, and other residential home plumbing repair and service
Maintenance and installation
Installation of new fixtures for showers, sinks and toilets
Sewer line installation and replacement
Sewer video inspections
Water service line installation and replacement
Interior gas line replacement and repairs
Gas service line installation and repairs
Sewer ejector, and sump pump repair and replacement
Complete plumbing repair and service
Dye testing
And more! Just ask
Vince comes ready to handle any situation on the spot.
Don't let a plumbing problem turn into an unnecessary emergency.
If you have residential plumbing and drain cleaning needs, contact Vince Marino Plumbing llc, who has over 28 years of experience.
Vince is ready to answer all your questions and explain all the repairs in detail before he starts the job. Call Vince at 412-682-6733 for personalized, professional plumbing repairs and service.
Vince Marino Plumbing, LLC is licensed, and ASSE certified to perform annual backflow preventer services, including installation, testing, repair and replacement of backflow prevention devices.
Allegheny County Registered Master Plumber, H.P. 1108
Registered Pennsylvania Home Improvement Contractor PA057760
DOT Certified for Gas Line Installation and Repair
NCI Certified Carbon Monoxide And Combustion Analyst Certification #: ‍22‍‍-039‍‍-01