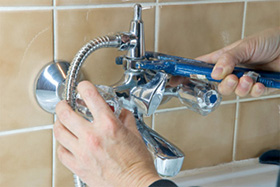 Does your garbage disposal have a constant tendency to get clogged or make a noise? Have you had problems with a toilet that often clogs, constantly runs, leaks, or lacks flushing power? Does your water heater have a sudden leak, does it operate improperly or is it just a old water heater that you want replaced?
Vince Marino Plumbing, llc in Pittsburgh can help.
Vince has the knowledge and experience to repair a variety of common plumbing  problems that happen all the time.
He offers complete plumbing repair and service.
Plumbing repairs and installations that Vince will handle include:
Bath tub
Toilet wax seal
Toilet
Faucet
Lavatory
Shower faucet
P- trap
Shower heads
Anti scald faucet
Shower pans
Shut off valves
Mixing valves
Septic tank conversion
Vince Services & Repairs:
Bradford White, Rudd Water Heaters
Tank Water Heaters - Gas, Electric
Tankless Water Heaters - Gas
Instant Hot Water Dispensers
Electric point of use water heaters
Garbage disposals
Vince can accurately diagnose and fix any and all plumbing problems.
If you are looking for a competitively priced residential private plumber, make sure you get Vince.
Vince Marino Plumbing, LLC is licensed, and ASSE certified to perform annual backflow preventer services, including installation, testing, repair and replacement of backflow prevention devices.
Allegheny County Registered Master Plumber, H.P. 1108
Registered Pennsylvania Home Improvement Contractor PA057760
DOT Certified for Gas Line Installation and Repair
NCI Certified Carbon Monoxide And Combustion Analyst Certification #: ‍22‍‍-039‍‍-01