A combustion analysis is a critical part of a thorough preseason inspection of boilers furnaces and water heaters. But this essential part of the heating system safety check gets overlooked frequently by plumbers and HVAC technicians. A proper flue gas test finds problems that can get severe sooner than later. Here's what can happen if you don't have a thorough combustion flue gas check.
Skipping the combustion test
First of all, are you regularly having a preseason check on your boiler or furnace? If not, get one now and then every year before the heating season starts. Now here comes the big question for everyone who does have their boiler or furnace serviced every year. Are you getting a combustion test printout from your serviceman or plumber that shows your appliance combustion readings? If you're not getting this document you're not getting a thorough inspection. My advice to you is stop using the company.
A visual inspection of the burner is just an educated guess. When the equipment to definitively verify the gas levels are correct is available, there's no reason to gamble on a guess. The combustion inspection ensures you're going to be safe in your home during the heating season and that your gas appliance is working efficiently. Skipping a combustion analysis allows the risk of having carbon monoxide (also referred to as CO) leaking into the home.
Complete combustion
Every year, a combustion analysis done to your heating system will verify that your gas boiler, furnace, space heater, or water heater have complete combustion. By having your appliance checked, you'll gain greater efficiency from lowered fuel costs, reduce pollutant emissions, and minimize your overall costs.
What can happen?
Suppose you forgot to check the batteries in your smoke and CO detector (you do have a CO detector, right?). The batteries are dead and have no juice. Unknowingly your heating system or water heater starts to leak CO into your home. What do you think may happen? If you're lucky, you could be among the could end up a survivor of CO poisoning or not, a fatality. That's not hype. According to the CDC, about 430 accidental deaths result from carbon monoxide, and 50,000 people go to the emergency room from accidental CO poisoning. That's every year. That should be a wake up call.
Closer to home
Now let's get away from the supposition. Here's what's happening in the real world, today. Below I posted a video showing a combustion test from a recent boiler check. Guess what? The boiler put off high levels of CO during the combustion check. I also posted a picture and video of a water heater that was back drafting and causing natural gas leaks to enter the kitchen space through a heat heating duct :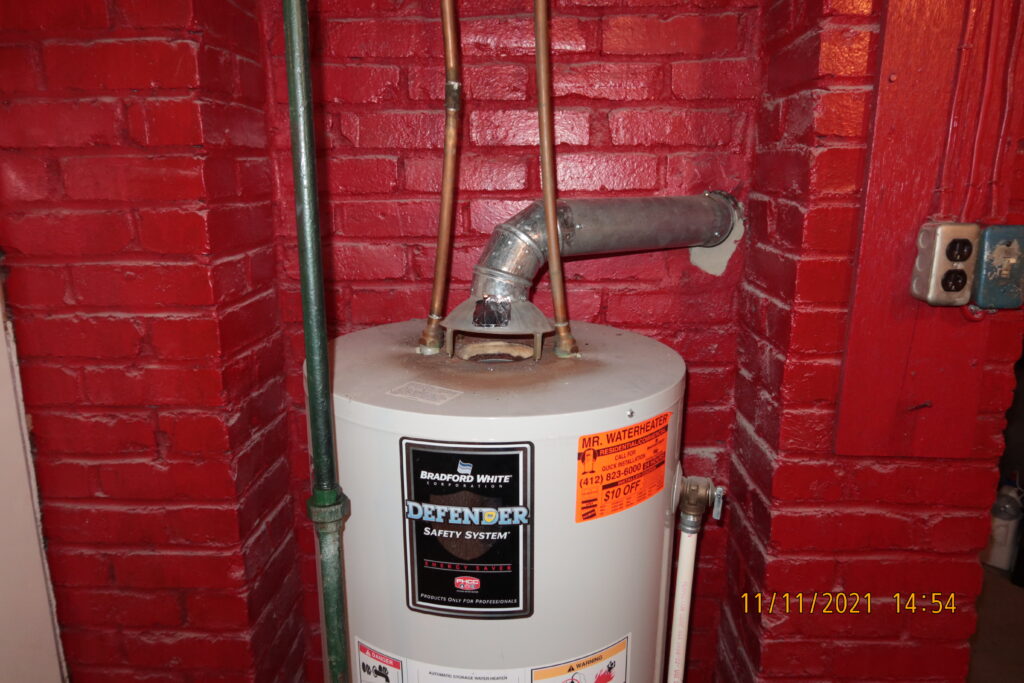 This water heater was spilling out high levels of carbon monoxide into the basement every time it fired. The call I got from the customer was for a smell of gas in the kitchen area. When I arrived and started investigating, I discovered that the water heater was below the kitchen stove. Whenever the water heater fired, a heating duct above it would bring the gas smell into the kitchen. Between the gas leaking you can smell and the CO you can't, it's a miracle no one got sick or died. I took out the atmospheric water heater, sealed the chimney opening, and installed a natural gas Bradford White power vent water heater to fix this problem. After installing the new water heater, I made sure it was firing and safe for the customer.
Avoid this from happening
I bet you're now saying to yourself, what should I be doing? I sincerely will tell you to start getting a proper combustion check done every year before starting the heating system. If you have a space heater, have that checked too. And during that annual inspection, have your water heater checked as well. If your fuel is propane, natural gas, or oil, they need servicing. If your water heater is a tankless model, that doesn't mean maintenance free. Have that checked and descaled annually, too. If you have a swimming pool with a pool boiler to heat the water, that needs checking.
Guessing isn't good enough
To get a thorough and proper inspection of your heating equipment, including a combustion analysis, click here to schedule that now with Vince.