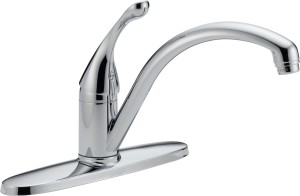 Do you have a kitchen faucet that you want replaced,or maybe you want to replace your garbage disposal or your dishwasher.
Whatever plumbing work you want done in your kitchen, Vince Marino Plumbing, LLC can assist you and take care of it.
Possibly you may want to remodel your kitchen completely, but you do not trust the contractor's plumber for some reason. Vince Marino Plumbing, LLC has the experience in kitchen plumbing remodeling, repairs, and installation of new plumbing fixtures. So if you have any doubt about contracting out your kitchen plumbing work, you can rely positively on Vince Marino Plumbing, LLC.
Kitchen plumbing & remodeling include the following:
Kitchen Faucet, repair or replacement
Shut off valves, installed or replaced
Hot water dispenser
Kitchen sink bowls
Dishwasher installation
Water filters with dispenser
Water filter replacement
Laundry hook ups out side of your kitchen area.
Heating radiator remove & relocate
Rough in new plumbing for a new kitchen design
If you are considering any plumbing work in your kitchen, do not wait. Just pick up your phone and call Vince Marino Plumbing, LLC so you can get your kitchen plumbing remodeling on the way to your complete satisfaction.
Call Vince Marino Plumbing,LLC 412-682-6733, anytime for your kitchen plumbing resolutions.
Allegheny County Registered Master Plumber, H.P. 1108
Registered Pennsylvania Home Improvement Contractor PA057760
Vince Marino Plumbing, LLC is licensed, and ASSE certified to perform annual backflow preventer services, including installation, testing, repair and replacement of backflow prevention devices.
Allegheny County Registered Master Plumber, H.P. 1108
Registered Pennsylvania Home Improvement Contractor PA057760
DOT Certified for Gas Line Installation and Repair
NCI Certified Carbon Monoxide And Combustion Analyst Certification #: ‍22‍‍-039‍‍-01