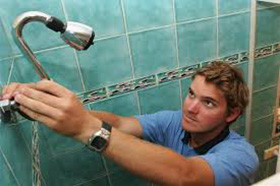 Need that leaky faucet or shower fixed? Is your toilet leaking or getting clogged regularly?
Over the years Vince Marino Plumbing llc has helped thousands of Pittsburgh area homeowners solve their bathroom plumbing problems.
Sometimes the plumbing job could be a simple repair to stop leaks, or it could be a total fixture upgrade including the replacement of sinks, toilets and tubs. Or it may be the installation of an extra bathroom in the home.
Vince Marino is an experienced and qualified plumber who can accurately diagnose and quickly fix any and all bathroom plumbing problems or clogs.
Bathroom Plumbing Remodeling,& Repairs Include:
Bath tub
Toilet, lavatory sink, and faucet repair or replacement
All fixture repair or replacement
Fixing leaky,broken, cracked or frozen pipes that burst — all pipe materials
Drain cleaning
Electric and gas water heater repair and replacement
Any and all plumbing repairs
Shower pans,and shower stalls
Experience the difference with Vince Marino:
Flexible scheduling
On-Time Service
Secure up front pricing
Your personal private plumber
If you have any bathroom plumbing that needs corrected,altered,or remodeled call Vince Marino at 412-682-6733
Vince Marino Plumbing, LLC is licensed, and ASSE certified to perform annual backflow preventer services, including installation, testing, repair and replacement of backflow prevention devices.
Allegheny County Registered Master Plumber, H.P. 1108
Registered Pennsylvania Home Improvement Contractor PA057760
DOT Certified for Gas Line Installation and Repair
NCI Certified Carbon Monoxide And Combustion Analyst Certification #: ‍22‍‍-039‍‍-01